utilise our specialist sector services
Leisure Specialist Services
Make sure your business makes the right first impression when potential customers find you on Google. Take advantage of our suite of services tailored to the leisure industry.
specialist services tailored to you
Make a great first impression with Google Business View and Google Business Profile for property​
Campsites, Caravan Parks, Holiday Parks and other outdoor leisure facilities are you looking to provide a virtual experience for prospective customers through 360-degree virtual tour technology?
No other marketing tool gives you the opportunity to showcase your holiday park, campsite or caravan park in such a unique visual and engaging way. The virtual tour technology is made for campsites, holiday parks and caravan parks so if you dont have one then you should seriously consider getting in contact with us. If you do have one then is it working for you? Is it up to date?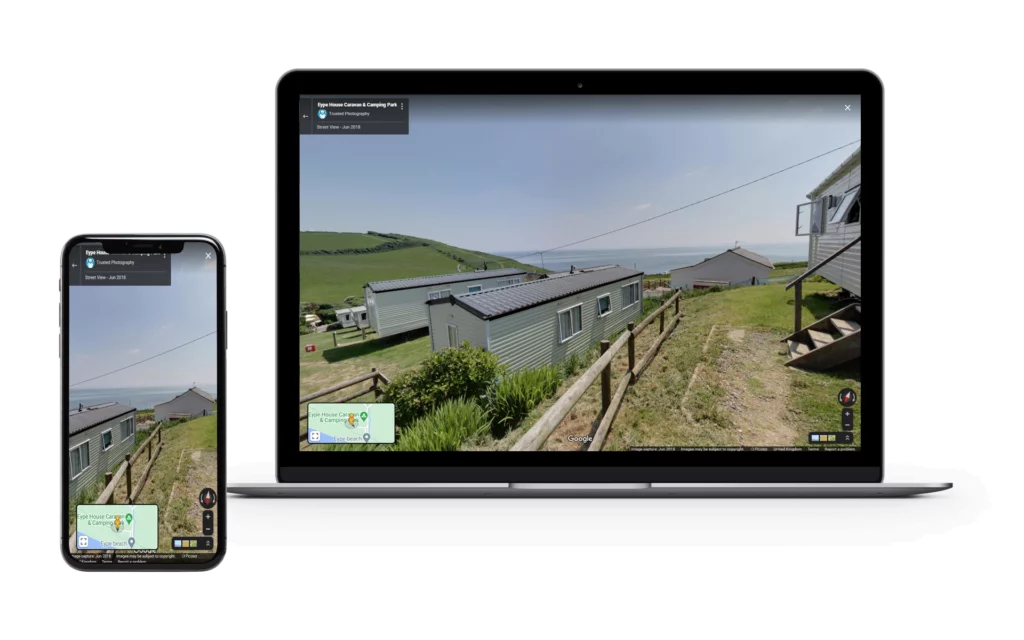 Your campsite, caravan park, holiday park can have a virtual tour online 24 hours a day, 7 days a week so they can see you are the place they want to go visit.​
Get onboard with a 360 degree virtual tour of your camp site, caravan park or holiday park. Showcase your site using an overlay to show visitors your facilities, inside your static holiday homes and the pitches on your site. Allow viewers to share their experience through social media networking showing friends and family what your site is all about.
Whether you are inner city, coastal, countryside a virtual tour will expand your horizons and customer reach. In these uncertain times of the staycation make sure you are visible and promoting your business through this innovative and engaging technology.
We take the photos and do the processing so you can get on with your day job.
Where do Virtual Tours feature?
When customers come across your Google business listing in Google Search, they can quickly navigate to your virtual tour through the photo gallery built into your listing.
Simply click the 'See Photos' on a listing with a tour to access the 360° View section of their gallery.
Your virtual tour is also accessible through Google Maps on all devices, including the Google Maps app and specialist Street View app.
Not only does your virtual tour sit longside your listing, but it links up to Street View where possible, giving your customer a seamless experience.
Virtual tours are also shareable on all forms of social media, and we provide  assistance on doing this once your tour has been published.
Additionally your tour can be fully embedded on Facebook or single spins can be shared for interaction through the Facebook App and website.
As well as across the Google platform and social media, your virtual tour is also able to display on your own website, allowing web visitors to view your premises in 360 degrees!
Once your virtual tour is live we will send you an HTML code which can be used to embed your tour on your website.